FLOuRISH Outstanding PI
Overview
To develop innovation leaders who can solve post-COVID-19 challenges, the FLOuRISH Institute establishes a special research and education zone as a venue for real science graduate school literacy education based on our know-how and ideas, and provides innovative graduate school educational programs. In FLOuRISH temporary labs, Outstanding PIs, FLOuRISH JIRITSU fellows (doctoral students), and other students carry out challenging and advanced research programs in cooperation with foreign super professors, corporate researchers, Team Education and Research Administrators (TERA), etc. The Institute also fosters diverse, distinctive FLOuRISH JIRITSU fellows who try career paths such as Next Generation PIs and entrepreneur based on advanced research skills and can approach society with new ways of thinking.
Incentive
An environment is in place where you can focus on research activities as an Outstanding PI.
The FLOuRISH Institute provides startup funds and expenses for employing part-time lecturers and RAs who support operations and classes. (The amount to be negotiated.)
You can employ FLOuRISH JIRITSU fellows to promote research. The TERA helps you obtain research funds and coordinate with joint researchers.
The FLOuRISH Institute pays the rent for the project lab. (A room of about 25 m2 will be provided if you wish.)
The FLOuRISH Institute may provide support for travel and accommodation expenses of foreign graduate school students who are your joint researchers.
You can receive support when considering social implementation of your research results.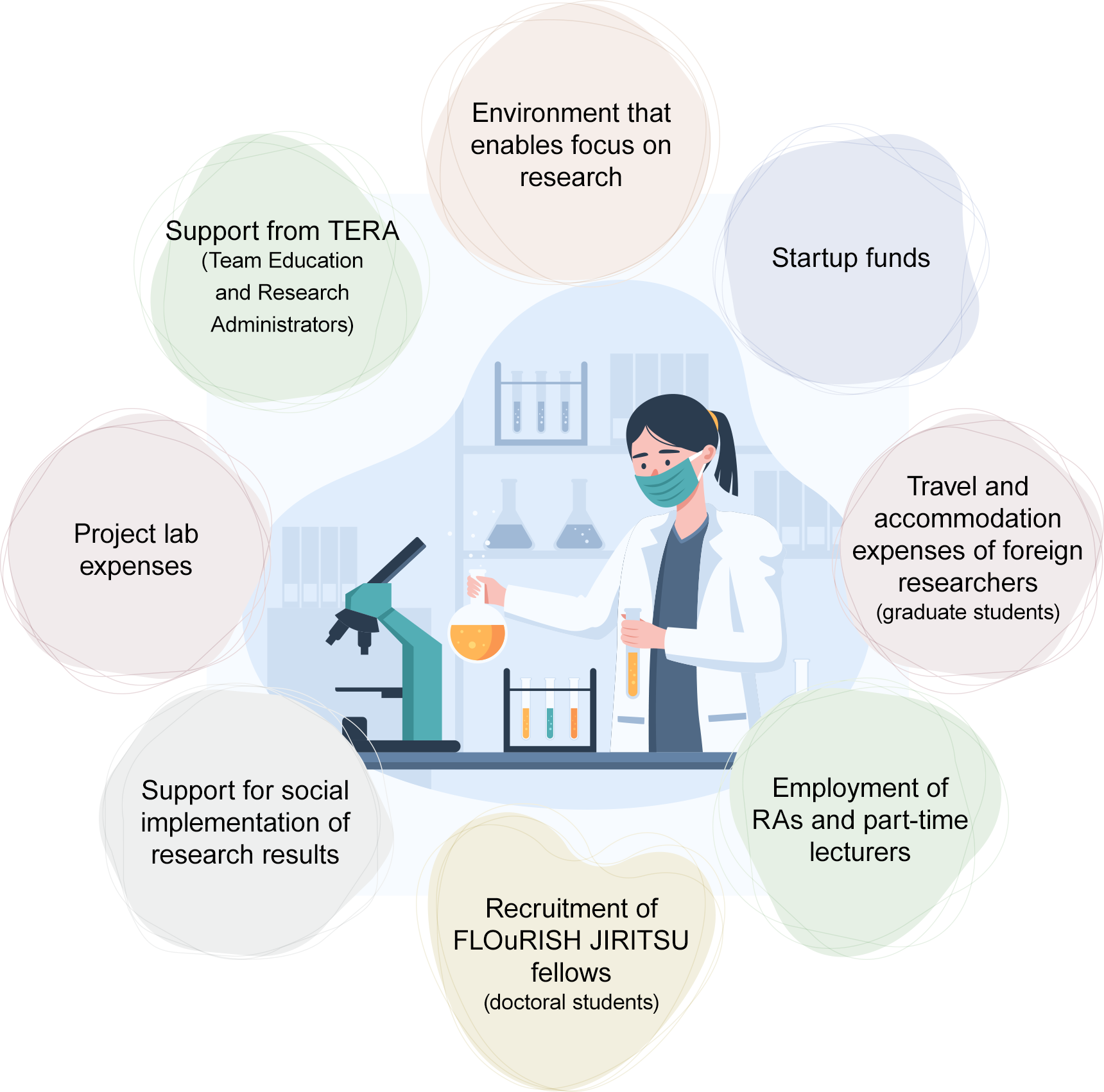 Eligible applicants
TUAT faculty members with a track record in world-class research who gained a doctorate about 15 years ago and are conducting unique research.
Applicants shall accept one or more FLOuRISH JIRITSU fellows from FY2022 onward based on the "Implementation Guidance for FLOuRISH JIRITSU Fellowship".(They will receive an fellowship of 2.4 million yen annually as.
Selection
Selection criteria include the following:
An applicant has a track record in world-class research.
An applicant has built a network with foreign research institutions, companies, etc. and is conducting unique research that impacts society.
An applicant hopes to achieve research results by taking on less operational burden temporarily and focusing on research.
An applicant is expected to work hard to guide students in their research, cultivating especially doctoral students.
An applicant is interested in social implementation of advanced research results in the form of a business launch together with graduate school students, and allows them to take part in programs to that end.
Terms
See application guidelines for the arrival date and terms.
Recruitment information
Please see Topics for the latest information.
Recruitment for FY2021 has been finished. Two Outstanding PIs were accepted.
Contact:
Office
Student Support Office, Educational Affairs Division
Tokyo University of Agriculture and Technology
Phone
042-367-5545
Email
jiritsu-fl(@ enter here)m2.tuat.ac.jp