Purpose
As a research-based university with a solid partnership base with industry in the arenas of sophisticated research and the development of education, research and innovation talent, Tokyo University of Agriculture and Technology (TUAT) is actively working to reform itself on the basis of its advanced research capabilities, partnerships with industry, and the track record of developing innovation talent, for the purpose of promoting excellent education and research programs comparable to those of global leading universities.
For Japan to enhance its presence in the international society, it is important that universities, especially national scientific universities, build a brain circulation system as a hub for open innovation and work to reform themselves based on MEXT's policy for national university reforms by transforming their governance structures and educational programs. Under the President leadership , therefore, TUAT has established a new vision statement that reads: "For a world-leading research university that maximizes human value intelligently and socially based on science." It thus aims to create future value and strengthen and reform its functions toward fostering highly qualified innovation leaders through advanced research capabilities and academic-industrial collaboration, while planning and implementing an organizational development that helps establish a research support system by improving the treatment of young researchers. To that end, it has expansively reorganized its Innovation Advancement Organization into the Institute for Fostering Leadership to create future value through Outstanding Research, Innovation and Sustainable Higher education (FLOuRISH).
Overview
The FLOuRISH Institute is a special research and education zone free from existing institutional limitations. It engages in the redistribution of internal resources and the reform of the personnel evaluation system by utilizing faculty members of TUAT Institutes. This is a model enterprise for national university reforms and enhanced partnerships with society. Based on actual performance of human resource cultivation at Leading Graduate Schools and WISE Program, FLOuRISH provides an enriched program for graduate school literacy education using its unique innovation leader development program. It also conducts reforms of graduate school education that include the improved treatment of graduate school students based on its own incentive system JIRITSU, and thereby creates a new graduate school environment that simultaneously fosters graduate school students (JIRITSU research fellows and Next generation fellows) as well as young principal investigators (PI) and people responsible for academic-industrial collaboration (Team Education and Research Administrators (TERA)).
At the same time, after being adopted for JST's Support for Pioneering Research Initiated by the Next Generation (SPRING) program, FLOuRISH launched its fellowship system for SPRING in FY2021 and has been working to promote advanced research, develop a higher entrepreneurial perspective, and foster human resources who can contribute to society.
On the assumption that it is important to learn entrepreneurship—a thought and action element needed to create new value—and maintain high aspirations and motivations regardless of generations, research fields, and job types, we also provide university-wide innovation education programs, including the Science Visionary Leader Program, as we aim to cultivate these people who create innovation.
History
| | |
| --- | --- |
| 2007 | Agro-Innovation Advanced Human Resources Development Center established (–2011) |
| 2007 – 2011 | Fostering young researchers for innovation "Agro-Innovation Advanced Human Resources Development Program" adopted by MEXT |
| 2010 | Innovation Advancement Organization established |
| 2010 – 2014 | Needs-Based Advanced Human Research Resources Development Project adopted by MEXT |
| 2012 | Leading Graduate School established |
| 2012 – 2018 | Leading Program for Doctoral Course Education adapted by MEXT |
| 2014 – 2016 | Enhancing Development of Global Entrepreneur (EDGE) Program adopted "The program for entrepreneurship of innovation leaders"by MEXT |
| 2015 – | Building of consortia for the Development of Human Resources in Science and Technology"Human Resource Development Consortium for Future Value Creation" adopted by MEXT |
| 2017 | Ph.D.'s Visionary Promotion (TUAT's own project) |
| 2018 | Ph.D.'s Visionary Promotion (TUAT's own project) |
| 2019 | Visionary Program for Science Researcher (TUAT's own project) |
| 2020 – | Science Visionary Leader Program (TUAT's own project) |
| 2021 | FLOuRISH established through reorganization of Innovation Advancement Organization |
未来価値創造研究教育特区・人の未来価値を広げる「FLOuRISH Institute」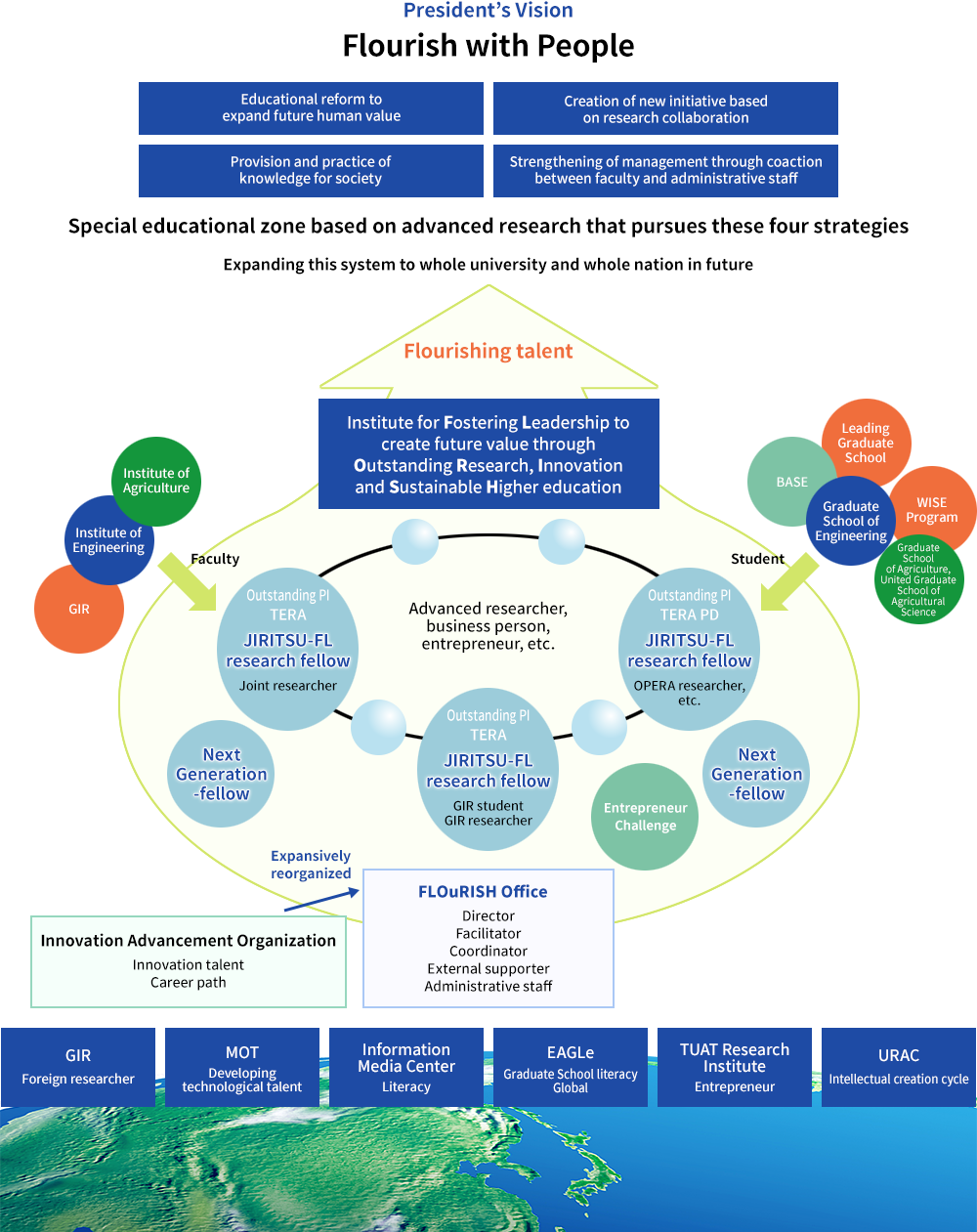 Goal
(1) Develop research environment for, (2) create career path for, and (3) improve treatment of potential science doctors
Measures
Ensure advanced and international research in partnership with GIR, etc.
Establish and assess independent temporary labs in a competitive manner
Environment that enables focus on research with outstanding PIs
Deploy TERA
Office to support development of innovation talent
Entrepreneur Challenge opportunity
Research support by JIRITSU system
Reason for special zone
Move away from silo approach
Try for new initiatives
Special assessment system
Temporary support
TUAT uniqueness
Track record of developing innovation talent → Deployment of TUAT-style program to society
Cycle of TUAT innovation ecosystem